Randomly, I was asked yesterday: So, your favourite band of all time? Aaand, here was the kick in the face...for a minute I almost said "Led Zeppelin" (the leds, the zepps). Can you imagine. Certainly, a phenomenol band. (Particulairly the early things...) Really, it just seemed odd to me that I had such a freaking brain lapse over the question. So, in a small attempt to redeem myself (to myself) i put together a little tribute, to my favourite band of all time...
I don't know where this is...just the lads i guess...
I believe this is my friend
Spiro
's favourite picture..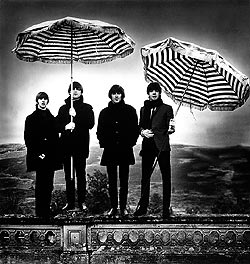 I think this is on the set of "Help!".
fairly self-explanitory I think
Shea stadium....
Tokyo
Tokyo
My favourite
shot in the entire world....
Actually, me and a couple friends hit up Liverpool last year. Wow, come to think of it, don't even get me started. By far, one of the most seminal days of my life. I freaking sat where they played. Goodness. But, the actual story I was shooting to tell there was that me and a couple other pretty cool girls went in to see Rob Whitaker's photo gallery...(He was one of the Beatle's official photographers...) anyhow, all of the above were his work. And I gotta say, I've never had a greater desire to steal something as when I saw that picture of George Harrison.(directly above)